Picking up where I left off… Here are the next eleven turns of the game (turns 11-21), explained in (mostly) gory detail.  If that seems like a lot of turns to cover here, there are a few in the middle that I can cover in a short amount. You'll see.
Overall Strategy: To win, I am going to need 2 Great Treasures, 10 Fame and 95 recorded Gold (30 x 2 VP I put in Gold plus 35 Gold for my starting Gold and starting belongings). That means Treasure Hunting and Trading with Natives to win. No Combat in the First Encounter.
My initial plan is was to spend one week (7 turns) trying to discover as much of where things are (with emphasis on tiles with treasure sites). The next two weeks, I will try to meet my VP goals based on the places I found. The final week will be heading to a Dwelling where I can cash in. I might not need a whole week, but I have played before where I started heading to sell things just a day or two too late. That's the general plan.
Here's where we left things on Day Ten:


——————————————————
DAY ELEVEN:
Birdsong: (A)M CN4, (SL)S, S, S
I COULD stay in this Clearing and do a Hide followed by (hopefully) two Search phases (one from the Shielded Lantern) to try to find the Cairns. But if I fail the Hide, I won't even get to do the Searches. Plus the Tremendous Spider will still be there and I'll just have to Hide again next turn. Instead, I Move with my Amazon Move Phase to Cavern 4 and do three Searches. If I find that Secret Passage from Clearing 4, great, I will have more movement options in this tile. But really, I am just trying to lure the Spider away from the Cairns.
Sunrise: I roll a 3 and a 4 for prowling monsters. Giants, Trolls and Wolves and Goblins. That is not going to lure the Spider to me. Instead, it just brings a Tremendous Troll from Row 4 to my Clearing.
Daylight: I do three Searches and don't find the Secret Passage. I needed a roll where the high die was a 3 or less, but I roll 2-6, 4-5 and 3-4. Darn! That 3-4 roll on Turn 10 would have let me find the Cairns site!
This is how things look at the end of Day Eleven: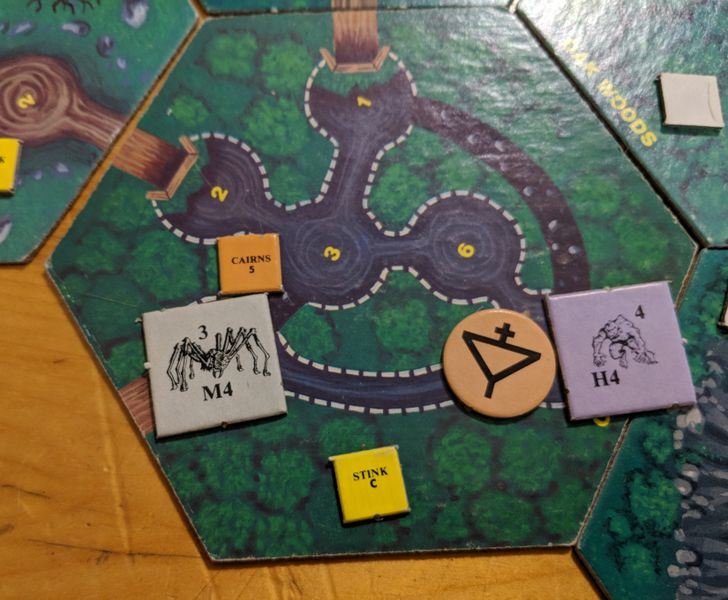 I think I am going to try one more turn here in the Cavern. If that doesn't work, I'm going to make a break for the Ledges and High Pass tiles. On the way, I'll see what Dwelling is in Dark Valley (though I won't be able to visit that Dwelling on the way).
——————————————————
DAY TWELVE:
Birdsong: (SL)M CN6, M CN3, M CN2
With my Amazon Move phase, I could get out of the Cavern entirely, but I hang around one move short to see one last time if I can get that Spider out of the Cairns. If he comes over to me, I'll go back to the Cairns, otherwise I'll start a sprint for the Ledges. The Cairns is just too good not to give it one more try before I leave.
Sunrise: I roll a 2 and a 3 for prowling monsters. Nothing is going to follow me, nothing new is going to show up.
Daylight: I move through to Cavern 2 and now it's definitely time to go.
This is how things look at the end of Day Twelve: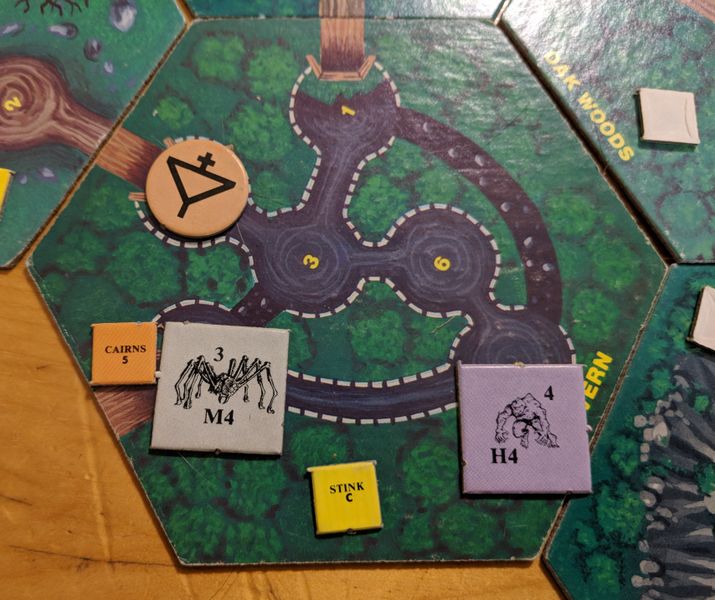 ——————————————————
DAY THIRTEEN:
Birdsong: (SL)M AV2, (A)M AV5, M MW2, M DV1
Even though my first move is to a non-Cave Valley clearing, since I am STARTING this phase in a Cave Clearing, I can still use the Shielded Lantern for that Move. I also get my Amazon Move, plus my two Basic Move phases. (Since I DID start in a Cave Clearing, I won't get any "sunlight" phases.)
Sunrise: I roll a 1 and a 5 for prowling monsters. That is only relevant for any prowling Native groups, since I will be ending my turn in a Valley tile.
Daylight: I leave the Cavern into Awful Valley, pass through the Maple Woods (I don't get to look at the chit there, but it's nothing that would interest me at this point anyway), and end up in Dark Valley. The Smoke V chit there brings the House and the Soldiers to Clearing 5. I am on the other path that runs through this tile though, so if I wanted to visit them, it would be a long trip. The Company and Bashkars COULD show up there but don't because they are not prowling this turn. Since the Company and Bashkars are both unfriendly to the Amazon, and the Soldiers are Neutral, I won't be making that trip.
This is how things look at the end of Day Thirteen: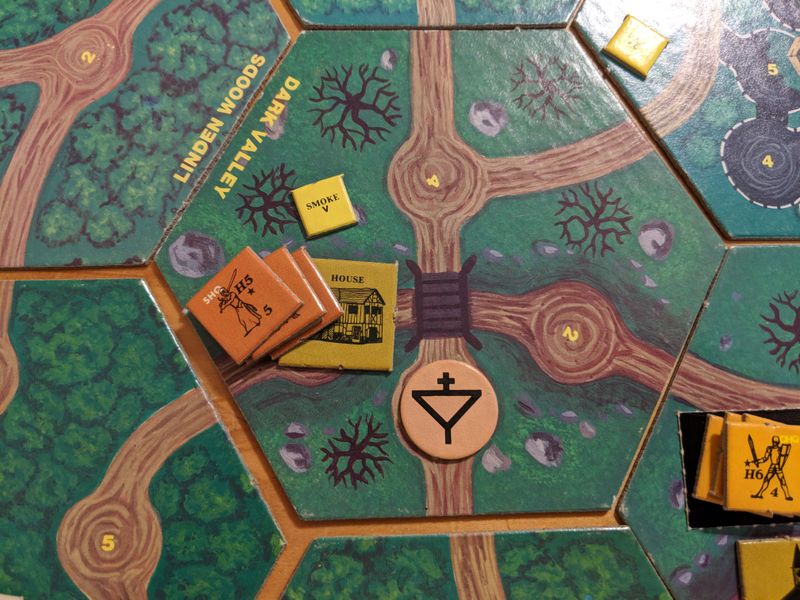 ——————————————————
DAY FOURTEEN:
Birdsong: (A)M DV4, M BL1, M L3, S, S
I can make it through Dark Valley, one non-Cave Clearing in the Borderland, and then into the Ledges and even have time to do two Searches to try to find the Hidden Path there. If I want to go to the High Pass, that shortcut could be helpful.
Sunrise: Since this is the 14th day of the month, after I roll the Monster Roll, any prowling monsters that meet that roll will return to the Setup Chart. Last time, nothing went back on the chart. This time I roll a 4-4, so only one row returns, but it IS all the Giants and Trolls, so the Troll at the Vault is now gone, but it's so far away now!
Daylight: I get to the Ledges OK. Both my Searches on the Peer table to find the Hidden Path fail (4-5, 1-5). I do find Clues but since I am ending my turn on this tile, I am going to turn up all those chits in this tile anyway, so the Clues result means nothing.
I turn up Stink M and the HOARD in Clearing 6! Oooh, that's a good one. It IS guarded by a Tremendous Dragon (who does not show up this turn because Dragons are not prowling), but it also has 4 Small Treasures and 5 Large Treasures and there are NO special conditions to Loot this site if I can find it. No Lost Keys needed, no chits to fatigue. Just LOOT!
The Dragons are not prowling but the Giants are, and the one of the two Giants I had just returned to the Set-up Chart shows up in my Clearing.
This is how things look at the end of Day Fourteen: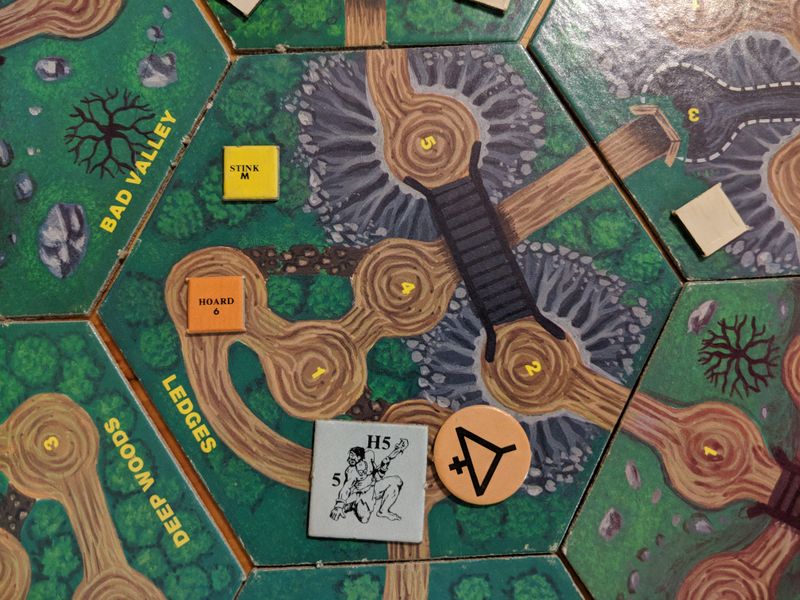 ——————————————————
DAY FIFTEEN:
Birdsong: (A)M L6, S, S, S, S
Super simple turn here. Move to the Hoard using my Amazon Move phase and Search for 4 phases. I have to discover the Hoard before I can start looting its Treasures.
Sunrise: I roll a 5 and a 6 for prowling Monsters. The Giant is not prowling and won't follow me, but the Heavy Spider WILL show up this turn in my Clearing after all my Searches.
Daylight: I move to Ledges 6. There is a Hidden Path from this Clearing to Clearing 4 but I'm looking for the Hoard, which I can only find using the Locate table and Hidden Paths can only be found on the Peer table. But who needs that Hidden Path with the Hoard right here? I'm not even thinking about going to High Pass now.
Now, I am looking for a "Discover (Chits)" result. That means I need to roll two dice and have a 4 as the highest die. That is 8 chances out of 36 chances or about a 22% chance on each roll. How do I do on my four chances on this turn? All duds! (2-3, 1-3, 1-3, 3-3) As a math nerd, this set of rolls kills me because the chances of getting a 3 as the high die (which I got on all four rolls here!) is only 5/36 (~14%)!
The Spider shows up to mock my failure.
This is how things look at the end of Day Fifteen: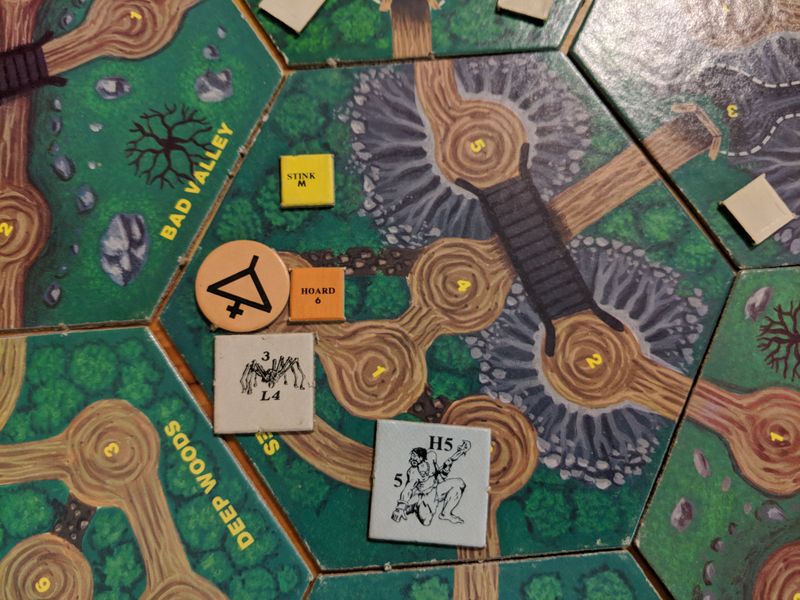 ——————————————————
DAYS SIXTEEN through DAY TWENTY-ONE:
Birdsong(s): H, S, S, S
I do the same thing for the next six days. Hide on the first phase, and if successful, do three Search phases. If not successful, wait until the next day.
Sunrise(s): Here's one thing to note about the First Encounter in the 2nd Edition Rules. If you are Hidden at the end of your turn, Monsters already on your tile will move to your Clearing (the Giant shows up the first chance he gets on Day Sixteen), BUT no new Monsters will be summoned to your tile. The Dragon never shows up at his hoard because I either succeeded in my Hide roll, or the one turn I didn't (Day 18), Dragons (or any other monsters that could have appeared) weren't prowling that day.
Note that I could have also used my extra Amazon move phase to do six turns of (A)M L1, M L6, S, S, S. Then I would not have had to worry about failing a Hide roll. I would have been unhidden at the end of my turn and then this tile could have filled up with Monsters, but this trick (move away, move back, search, search, search) would have always worked in the First Encounter. But I didn't think that out until just now when I was writing up this post! LOL So that's why I didn't do that!
So, in the end, five turns looked like this: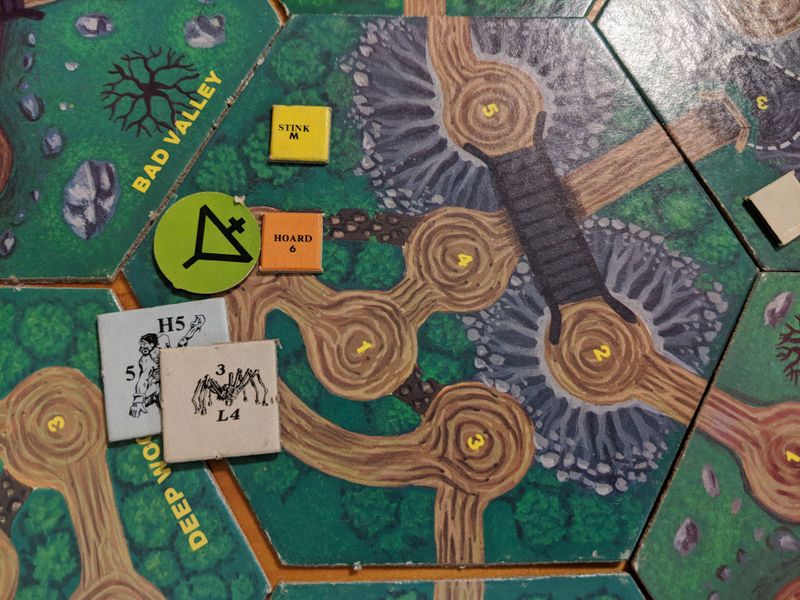 and one turn looked like this: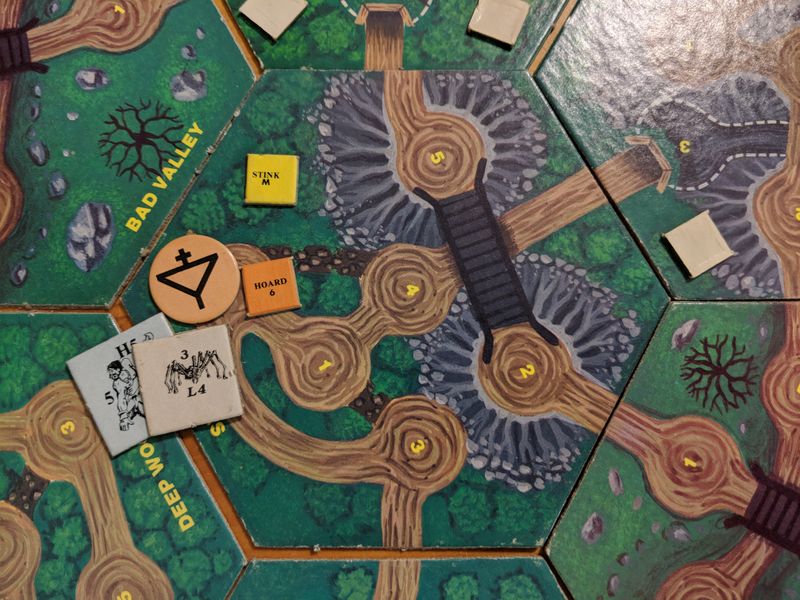 Daylight(s): As good as I appear to be at Hiding (I hide successfully on five turns, fail only once on Day Eighteen), I am also as equally sucky at finding a huge Hoard of treasure!
Day 16 Searches: 1-2, 2-3, 2-6 NOTHING! (Monster roll was a 1-4!)
Day 17 Searches: 1-6, 4-5 (at least I rolled a 4!!), 3-6 NOTHING! (Hide roll was a 3-4!)
Day 18 Searches: NONE! Got busted failing my Hide phase.
Day 19 Searches: After I roll a 4-4 on the Monster roll and cry, I wipe the tears from my eyes, do a successful Hide and FINALLY find the Hoard with ANOTHER 4-4 roll. YAY! I mark off the discovery of the Hoard on my Personal History Pad and start rolling on the Loot table! First day I find the Flowers of Rest (pretty useless in First Encounter from any standpoint) and Eye of the Idol!
Day 20 Searches: I hide successfully and Loot the Power Boots, the Oil of Poison and a Great Treasure, the Hidden Ring.
Day 21 Searches: I hide successfully again and loot two more Treasures…The Royal Scepter, my second Great Treasure (fulfilling THAT victory condition so far) and the Golden Armband.
It's time to stop searching here. There are only two Treasures left and there is only a 1 in 12 chance of finding one of them. Let's examine all my haul and see what is there and what it means for my game.
This is all my belongings (some of my starting equipment, the Shielded Lantern I bought and the 7 Treasures I looked from the Hoard at the end of Day TwentyOne: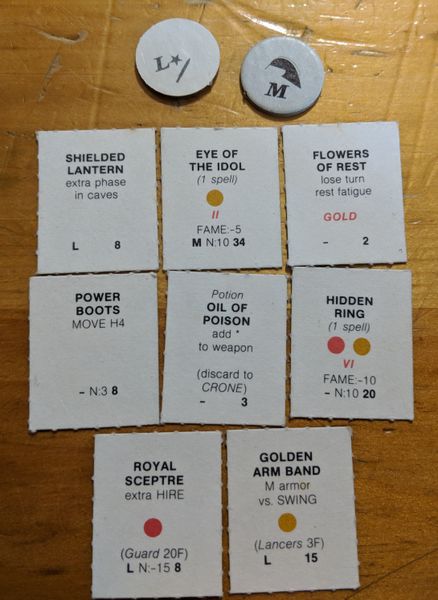 I also have six Gold in cash.
Oh, and one more thing to note… The Monster Roll on Day 21 was 3-6 just like it was at the end of the first week and the same thing happens. Nothing goes back to the Setup Chart.
There are lot of treasures there and a lot to think about for what I want to do for the next 7 days and how close I can get to victory.
You should already know what the Shielded Lantern does, plus it is of Light Weight and is worth 8 Gold if I sell it. Here are the ones I picked up from the Hoard:
Eye of the Idol: For the First Encounter, I can ignore the Spell and the roman Numeral and just deal with the fact it has Medium Weight (so the Amazon can carry it). It's worth 34 Gold if I sell it, but until then, as long as I hold it, I have 10 Notoriety and -5 Fame. Neither of those last two things help me at all, so this is a sure sale, first chance I get.
Flowers of Rest This Treasure is always supplying Gold Magic to its clearing but that's irrelevant in the First Encounter. I don't have any fatigued asterisks, so it has no effect on me.
Power Boots I immediately activate these to give me the effect of an extra Heavy Move chit that I can use to carry anything I find of Heavy Weight, which I couldn't do before. Worth 8 Gold when I sell it, 3 Notoriety until then.
Oil of Poison Something that would be super useful to the Amazon in the Second Encounter, in the First Encounter, it's just something I want to sell for 3 Gold.
Hidden Ring As with the Eye of the Idol, in the First Encounter, I can ignore the Spell and the Roman Numeral. The red dot indicates this is a Great Treasure, one of the two I need for the Great Treasure Victory goal. It also gives me 10 Notoriety while I'm holding it. The big problem is I didn't put any VP in Notoriety, but I DID put one in Fame and this gives me -10 Fame while I have it! That more than cancels out the value it gives me for being a Great Treasure. It's better I sell it for 20 Gold and get my 10 Fame back.
Golden Armband The Armor part doesn't help in the First Encounter, but it IS worth 15 Gold if I sell it and if I sell it to the Lancers, I get 3 Fame to boot.
Royal Sceptre An Extra Hire phase won't help until the Third Encounter. It IS a Great Treasure that is saddling me with -15 Notoriety (that doesn't hurt me in any way), but if I can find the Guard and sell it to them, I will get 8 Gold AND 20 Fame, DOUBLE my VP Goal in Fame.
There are several different ways I can sell these things to fit VP conditions. None of them right now are winning combinations. I have a week to find something AND get to a Dwelling to sell everything I want to sell.
1) Sell everything but the two Great Treasures. That would meet my Great Treasure goal exactly, and leave me one short in Gold category and two short in Fame category. FINAL SCORE: -21 (I'll explain where this Final Score comes from at the end of the game.)
2) Find The Guard and sell everything but the Hidden Ring. That gives me my Fate condition exactly, but leaves me one short in Great Treasures, and one short in Gold (BY TWO GOLD pieces, 93 Gold, need 95!). FINAL SCORE: -18 (If I can scrape up 2 Gold somewhere AND find the Guard, the FINAL SCORE would be -9.)
3) Find the Guard and sell everything. One over on my Fate goal, even on my Gold goal and 2 under my Great Treasure goal. FINAL SCORE: -16
The two best plans (given the Treasure, belongings and Gold I have so far) involve me finding where the Guard are located in time to be able to try to find a couple more Treasures. There are only two Valley tiles left, they have to be in one of them. Off to find the Guard I go.
——————————————————
DAY TWENTYTWO:
Birdsong: (A)M L3, M BL1, M BL6, (SL)M BL3
The Guard is either in the Curst Valley or the Bad Valley. Curst Valley is two turns away, Bad Valley is three turns away, so I will head to Curst Valley first. By using my Amazon Move phase, I can get to Borderland 6, and since that is a Cave Clearing, I can use my Shielded Lantern to move to Borderland 3 in addition to my two Basic phases.
Sunrise: I roll a 3 and a 3 for prowling monsters. Only Wolves and Goblins prowling today.
Daylight: I get to where I want to go in Borderland 3. Dank C doesn't summon anything, but Patter 2 summons six axe-swinging Goblins in Clearing 2, right in my way of getting to Clearing 5 in Curst Valley.
This is how things look at the end of Day Twentytwo: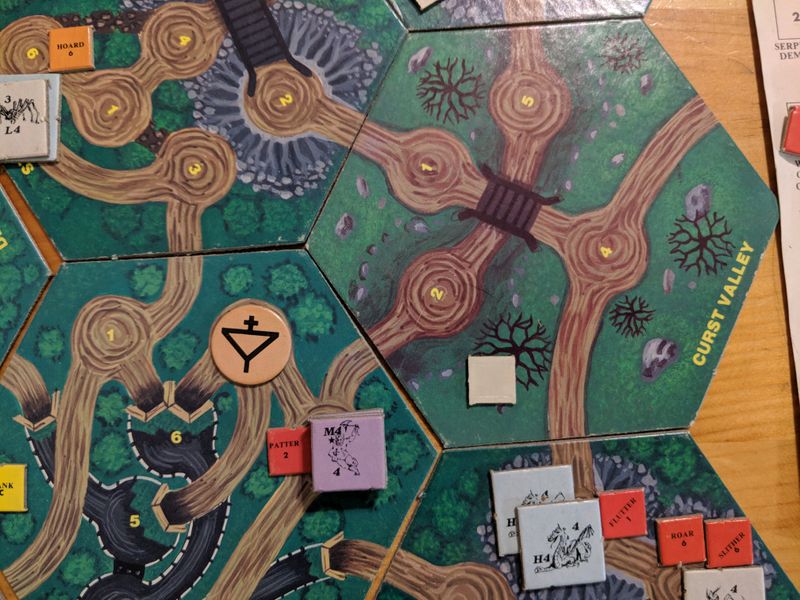 ——————————————————
DAY TWENTYTHREE:
Birdsong: H, H, (A)M BL3, M CV2, M CV5
I really need to get to Clearing 5 in Curst Valley today and I have an extra phase to do it, so I am going to Hide twice just to make sure I can get past the Goblins.
Sunrise: I roll a 3 and a 5 for my Monster Roll. It only has the potential to summon Natives this turn, since I will be ending my turn in a Valley clearing.
Daylight: My first Hide works and I end my day in Clearing 5 and turn up the Stink V chit. DARN! That means this is the Inn with the Rogues (neutral to the Amazon). There are too many of them to buy drinks for to make them any friendlier. Thankfully, the Monster roll of 3 means the Patrol is currently at the Inn as well and they ARE friendly to the Amazon AND there is only three of them, so easy to buy drinks.
(Note that, in the First Encounter, prowling Natives show up at Dwellings whether you are Hidden or not. Only Monsters are not summoned when you are hiding in the First Encounter at the end of your turn.)
The real bad news is the Guard and the Guardhouse have to be in Bad Valley. Wow, remember how way back in Turn 2, I was debating taking a slight detour to see who was residing in Bad Valley? Now I really wish I had done that.
This is how things look at the end of Day Twentythree: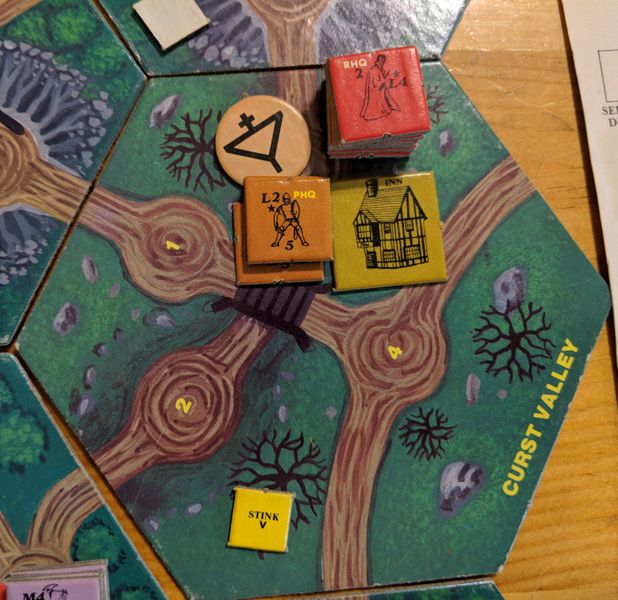 ——————————————————
DAY TWENTYFOUR:
Birdsong: T, H, (A)M CV2, M BL2, M BL3
First, I am going to Trade with the Patrol to see if they have any Treasures that can help me. Then I will Hide to try to get past the Goblins on my way to get to Bad Valley. I don't care if this Hide fails as it will leave me only one Clearing short of where I want to be anyway and chances are around 70% it will work.
Sunrise: I roll a 4 and a 5 for my Monster Roll. None of the monsters in the Borderland are prowling today, so even if I fail the Hide, nothing new is going to be summoned and the Goblins won't move.
Daylight: Trading with natives has been very good to me this game. The Patrol ends up having the Ointment of Steel armor that I don't need or want, BUT they also have the 7-League Boots, which only have a base price of 5, but will let me carry anything of Tremendous weight(!) AND give me yet ANOTHER extra Move phase. I NEED THESE!
I buy drinks for the Patrol (3 Gold, reducing me to 3 recorded Gold), making them Allies for this trade and they end asking for Price x 2, or 10 Gold for these incredible Boots. I spend one more recorded Gold (dropping me to 2) and trade in my Short Sword and Helmet for the other 9 Gold. I check and make sure if I sell everything to the Guard, I will still meet my Gold victory condition.
I immediately activate the 7-League Boots and inactivate the Power Boots (even though I won't get the extra bonus Move phase this turn since I had already recorded my turn at Birdsong).
My Hide works and I breeze past the Goblins on my way back to near where I started almost a month ago in the Realm.
This is how things look at the end of Day Twentyfour: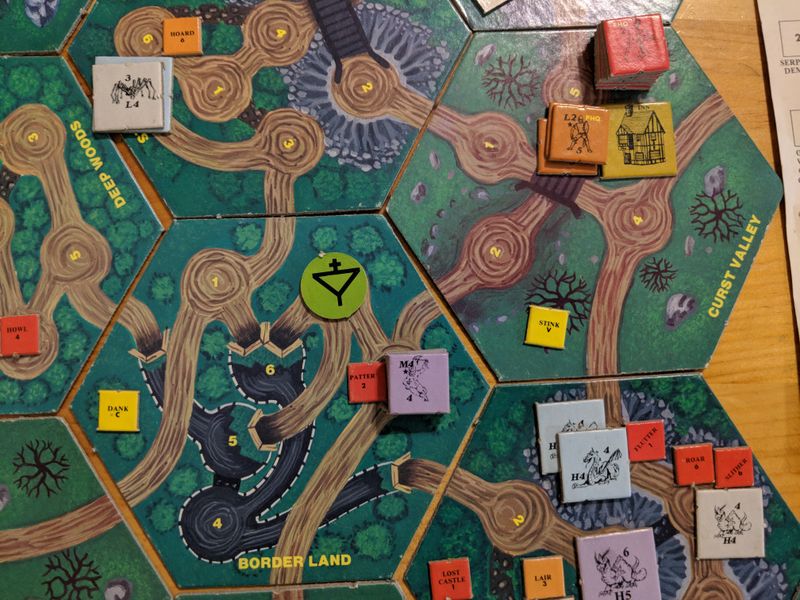 ——————————————————
DAY TWENTYFIVE:
Birdsong: (7LB)M BL5, (SL)M DW5, (A)M DW3, M DW2, M BV2
This is great. Even though I will be passing through a Cave Clearing this turn, limiting me to the two Basic phases, I also get THREE extra phases from the 7-League Boots, the Shielded Lantern, and my Amazon Stamina.
Sunrise: I roll a 2 and a 6 for my Monster Roll. That's not going to summon or activate anything. The only possible prowling natives who ever come to the Guardhouse are the Patrol and they are going to be hanging out at the Inn for the rest of the game.
Daylight: I make a MEEP! MEEP! roadrunner sound as I blow through the Borderland and the Deep Woods to reach Bad Valley where I find the expected Guard and Guardhouse in Clearing 5.
Picking up the 7-League Boots was a fantastic find. I will actually have time to go to the Mountain on Turn 26 and see if there are any Treasure sites there, try to find and loot them on Turn 27 (if I do find any), and then still make it back in time on Turn 28 to sell everything off to the Guard!
This is how things look at the end of Day Twentyfive: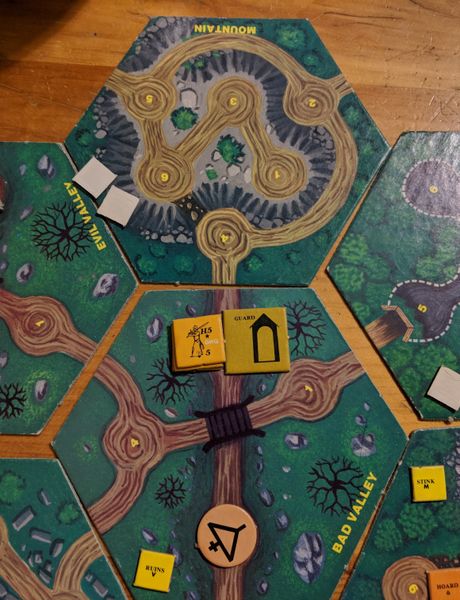 ——————————————————
DAY TWENTYSIX:
Birdsong: M BV5, M M4, M M2
There are four Treasure sites left I haven't found. The Altar could appear at the top of the Mountain in Clearing 1, the Pool halfway up the Mountain in Clearing 6, the Statue in Clearing 2 or the Shrine next door to the Guardhouse in Clearing 4. The first two Clearings are Mountain Clearings that take TWO Move phases to get into, the last two Clearings are regular Woods clearings costing no extra move phases.
I won't have time to get to anything in the Mountain clearings, find it and loot it and still make it back to the Guardhouse by the final turn in the game, so I plan to go to Clearing 2 and just hope for the best.
Sunrise: The Monster Roll is a 1 and a 3.
Daylight: My best doesn't work out. When I end my turn in Clearing 2 in the Mountain, I do turn up a Treasure Site, but it is the Pool in Clearing 6. And the Monster roll ensures a big fat Octopus is sitting in that Pool waiting to Block me. So much for more treasure hunting. There is also a Ruins M chit there but that does not summon anything.
This is how things look at the end of Day Twentysix: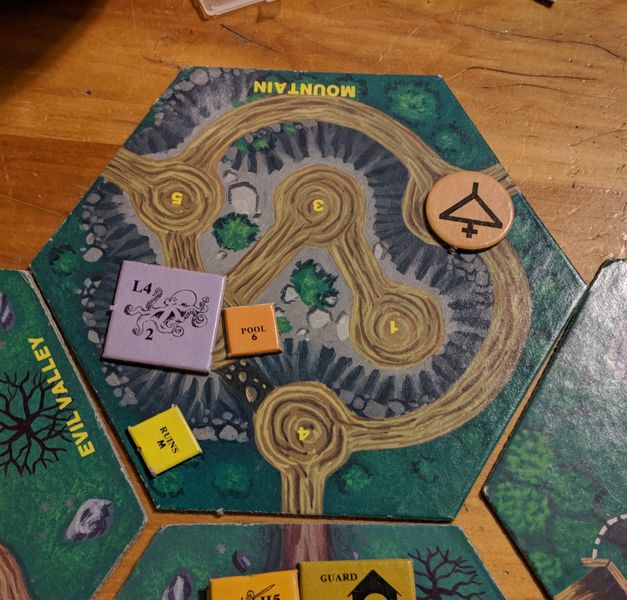 ——————————————————
DAY TWENTYSEVEN and FINAL SCORING:
Birdsong: M M4, M BV5, T
There is really nothing I can do except go back to the Guardhouse and sell everything for the best score I can get. I am going to lose. I don't even need to play out the final day because nothing will/could change.
Sunrise: No need for a Monster roll.
Daylight: I go back to the Guardhouse and sell everything to the Guard. They are so happy I returned the Royal Sceptre that they announce it to the whole Realm and make me very famous!
My final results:
Great Treasures: 0 (Needed 2)
Spells: NA
Notoriety: 0 (Needed 0)
Fame: 20 (Needed 10)
Gold: 105 (Needed 95)
How that works out in Magic Realm Final Scoring…
I was 2 short of my victory condition in Great Treasures, so my Basic score for Great treasures is -2. But since it is minus, it is multiplied by 3 to make my Basic score for Great Treasures = -6. My Bonus score for Great Treasures is the number of VP I put into that category (2) times my Basic score. So my Bonus Score for Great Treasures = -12.
I was even on my victory condition for Gold, so my Basic score for Gold = 0. My Bonus score for Gold is the number of VP I put into that category (2) times my Basic score. So my Bonus Score for Gold also = 0.
I was 1 ahead of my victory condition in Fame (got 20, needed 10), so my Basic score for Fame = 1. My Bonus score for Fame is the number of VP I put into that category (1) times my Basic score. So my Bonus Score for Fame = 1.
So my overall Final Score for this game =
-6 (Basic Great Treasures) -12 (Bonus Great Treasures + 0 (Basic Gold) + 0 (Bonus Gold) + 1 (Basic Fame) + 1 (Bonus Fame) = -16 LOSS!
Well, that's the official game score and a loss. But I am going to look at it as I made two of my three victory conditions, so MORAL VICTORY! LOL
I hope this detailed playthrough with my thoughts on strategies (good or bad!) will help de-mystify this game a bit for people!
———————————————————————-
And a big THANK YOU to David Arlington for putting this playthrough together and allowing me to post it here.  This looks like a real fun game.  Apparently there are files out there where you can print and play your own copy if you're interested, and used copies show up all the time on ebay and the like, so keep your eyes peeled if this tickled your fancy.
I'm in the midst of moving houses so I'm awfully busy, so I can't promise another playthrough from me any time soon, but I'll have a nice new gaming room to try out, so I'll do my best.
Thanks for reading, even though I had nothing to do with it!  Game on!